SO.FRI.PA.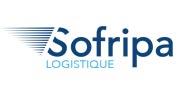 Handling at your Service
Created in 1986 by Transports Antoine, SO.FRI.PA provides storage and refrigerated transport services in the Paris region.
Located in CHILLY MAZARIN (91) since 2002, SO.FRI.PA has a 3800 m2 positive cold warehouse. At th end of 2016, SO.FRI.PA. moved in a new 6500m² platform at WISSOUS (91) with about 50 gates.
SO.FRI.PA's fleet : 40 trailer-trucks and 50 handling equipments.
SO.FRI.PA delivers supermarket platforms and wholesalers in the Paris region, Nord-Pas-de-Calais and Normandy 24 hours a day and 7 days a week.
SO.FRI.PA it's also : storage and order picking of fresh foods.
It's specialty : the transport on pallets of delicatessens, vegetables, fruits, poultry, pastries, meats, frozen goods.
Contacts :
SO.FRI.PA
ZAC du Haut de Wissous II
Rue Hélène BOUCHER
91320 WISSOUS
Tél : +33 1 69 74 16 00