Entrepôts Frigorifiques de Bressuire - E.F.B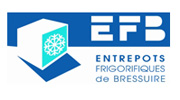 Located in Deux-Sèvres department, the Entrepôts Frigorifiques de Bressuire (EFB) ensures the storage, the negative cold storage and the freezing food stuffs.
EFB ensures a perfect control of the food safety rules.
Our know-how : strict stock management and flow optimization.
We have 2 sites in Bressuire and Terves (79) for a total capacity of 25,000 m³ in negative cold, 3 ventilated deep-freezers tunnels (60 tons a day), modern equipment, a new CO2 cold production, a dynamic team to serve you, quality, responsiveness ...
In order to better respond to customers, we have the IFS certification in 2016.
Contact :
Entrepôt Frigorifique de Bressuire E.F.B
Zoning Industriel St Porchaire
79300 Bressuire
Tél : +33 5 49 74 25 11